Technologically advanced completely sealed, maintenance free car batteries
We are the sole distributor in Sri Lanka for Thai Storage Battery Public Company Limited, manufactures of premium quality 3K brand automotive & industrial batteries from 1988. 3K Sealed Maintenance Free batteries(SMF Batteries) and Low Maintenance batteries(MF Batteries) are manufactured to international standards in their state of the art , modern factory in Thailand using the latest and advanced technology and are distributed in over 35 countries world-wide.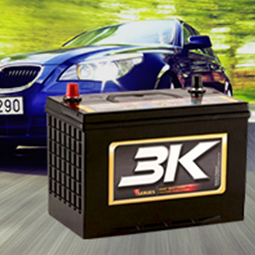 Being the first and only brand to offer a wide range of technologically advanced completely sealed maintenance free batteries to suit all the latest models of passenger cars, the 3K SMF batteries offer the following features & benefits:
Manufactured using Genuine SMF technology and is therefore trouble free and requires ZERO maintenance.
Anti-Leakage system keeps internal liquids from evaporating and no topping up of battery water is required. This prevents sediments contaminating the battery acid during topping up which commonly occurs in non-sealed batteries.
Double Ventilation Valves help maintain proper operating pressure by relieving excess gas from chemical reaction.
Corrosion resistance with the superior designed Lead/Calcium Grid.
Reinforced housing restrains bulging from heat and internal gas pressure.
Base hold down perfectly fits European cars.
Is 100% verified with leak proof test at 45 degree tilt, high cranking test and accidental short-circuits.