Health, nutrition and all the best goodness you can get!
Darley Butler Health Care Unit, established in 2001, is involved in the marketing and distribution of Pharmaceutical Finished Products, Laboratory Products and Veterinary Products across Sri Lanka.

The unit is managed by qualified and experienced personnel who share local business knowledge with our valued strategic partners. They are backed by a well-trained and efficient teams in medical promotions and sales, a Training & Development department and a qualified pharmacist. We conduct an effective and efficient service around the island, through trusted service partners.

Our longstanding partnerships with manufacturers since the inception of the unit, is a testimony to our professionalism, reliability and dedication to customers. Our international healthcare product partners:
| | |
| --- | --- |
| Sterling Lab | India |
| Navana Pharmaceuticals Ltd | Bangladesh |
| Aristo Pharmaceutical (Pvt) Ltd | India |
| Duxen Pharmaceuticals (Pvt) Ltd | India |
| Orion Pharma Ltd | Bangladesh |
| Blue Cross Bio-Medical (Beijing) Co. Ltd                  | China |
| YD Diagnostics CORP. | Korea |
| Backjoy Inc. | U.S.A |
| INTAS Pharmaceutical Pvt Ltd | India |
| Zanon Vitamec | USA |
Darley Butler Healthcare is fully equipped to offer an effective and efficient distribution service to our customers through our service partners which strategically covering the entire geographical area. 
Healthcare business is been managed by qualified and experienced personals to share our local business knowledge with our valued strategic partners by providing our services at all time, backed by
A well trained Medical promotional Team.
An effective and efficient Sales Team.
Efficient Training & Development department and a qualified Pharmacist to handle product registrations.
The relationship network bridges the gaps between ourselves, our service partners and our valued customers through modern IT implications.
As our prime objective is to satisfy and fulfill our customers further, we are in the process of expanding our business exposure.
PETTAH  PHARMACY (PRIVATE) LTD
Pettah Pharmacy Ltd is  a partner company within the E B Creasy Group,  subsidiary under Muller & Phipps Ceylon Ltd. WE are one of Sri Lanka's  pioneering pharma companies (established 1956),  and count over 40years experience in agency-distributor business operation lines. 
Pettah Pharmacy (Pvt) Ltd -  Agency-Distributorship profile ranging from:
Sri Lanka agent-distributor for:
Johnson & Johnson ethical pharmaceutical product lines from Janssen Pharmaceutica
(distributorship spanning 35years)
Macleods Pharmaceuticals Ltd-India (5th ranking Indian pharma giant company)
ACG Worldwide-India --(world's second largest capsule manufacturer) –
ACG Pam  and ACG Pam-Pac  - ( pharma industrial machinery products).
Annual turnover – averaging  USD 5.5 million (in import value)
Our core strengths / competencies
Mature experience and work-related expertise in agency representation
Confidence and respect Pettah commands among the medical profession as a distributor of high-quality pharmaceutical products
Pettah's present (and past) association with prestigious pharma MNCs
High visibility in key high-yielding therapeutic product markets (CNS, skin, gastro, immunology, neuro , oncology and antibiotics)
Dedicated Medical promotional teams
Expert handpicked distributors and the well structured sales and distribution team
Rationalized distribution principle
Consumer (public) image of Pettah as a reliable ('old and venerable') pharma company
Our dedicated staff is a true collection of business expertise and professional skills . The company operational structure allows the facilitation of new ventures and moves as per the set solid platform of Marketing, Sales and Distribution, Finance, Regulatory& Supply Chain and IT.
Cow & Gate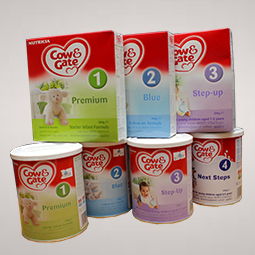 Cow & Gate is a brand unanimous with baby feeding and has been a trusted choice for Sri Lankan mothers for over eight decades.
With current ownership of the brand by DANONE, a French multinational organization, the products are manufactured in state of the art production facilities backed by latest scientific research. The products conform to the prescribed standards of Codex Alimentarius, European Standards as well as Sri Lankan Standards.
In Sri Lanka, Cow & Gate has island wide distribution and is available in Pharmacies, Supermarkets and A grade Groceries. Our Sri Lankan portfolio caters to infants from birth up to 12 months, followed by specially formulated milk products for children from 1-5 years as well as one soya based infant formula for therapeutic use.