Trusted and dependable, innovative and truly Sri Lankan products for you!

Our homecare products span two leading brand names in the island: Ninja, a well-established pest control product range and Amritha, a new and well received joss stick collection. Managed and distributed by the Homecare Division of Darley Butler, all our manufacturing processes are certified with globally recognised quality certifications. We welcome and apply consumer insights to improve our product quality.
We will be introducing 'Eco-friendly' products to our range of offerings, in the near future.
Ninja
NINJA, a truly Sri Lankan product, is manufactured by the first 'household' insecticide company in Sri Lanka to receive the SLS certification.
NINJA's active ingredients are imported from buyer Germany as well as Sumitomo Chemicals, Japan. All other raw materials are sourced in Sri Lanka.
Our state of the art, eco-friendly mosquito coil & vaporizer manufacturing facility, offers over 200 jobs in the Millewa community in the Kalutara District, following its relocation under the auspices of the Gamata Karmantha Scheme.
Ninja Mosquito Coil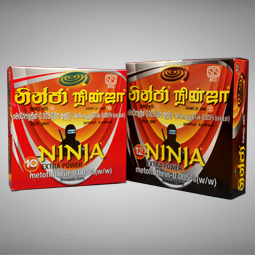 Marketed since 1997, Ninja Mosquito Coils in the market leader in mosquito repellent coils in Sri Lanka.
NINJA Mosquito Coils are available in two variants: 10 hour and 12 hour coil packs.
Ninja Liquid Vaporizer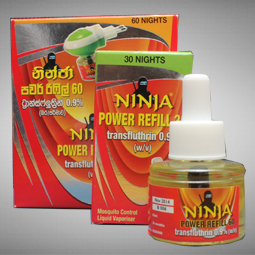 The Ninja Liquid Vaporizer repels mosquitoes from the immediate area of usage and assures a smoke free environment. Composed of a unique formula developed using the highest quality raw materials, its active ingredient is imported from Bayer Germany. The Liquid Vaporizer is available in 3 different varieties. The Ninja Refill Machine is widely available in the Sri-Lankan market.
Ninja Strike - Cockroach Controlling Aerosol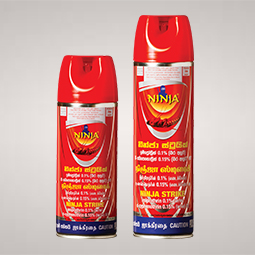 The first Sri Lankan aerosol product made by Sri-Lankans, established as an alternative to imported products, the cockroach controlling aerosol Ninja Strike's formulation is created using the highest quality ingredients.
Ninja Protector - Mosquito and Fly Controlling Aerosol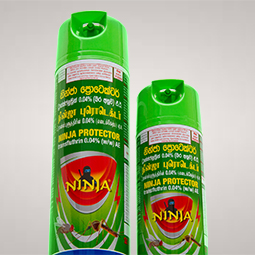 The latest Ninja, a result of innovative effort against the mosquito menace, Ninja Protector "protects" you from mosquitoes and flies. Available in a distinctive green canister.
Amritha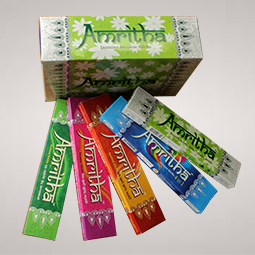 Amritha is the first 'two scents in one' joss stick to be manufactured in Sri Lanka. An innovative introduction that changed the foreign brand dominated Sri Lankan joss stick market, Amritha satisfies Sri-Lankan aromatic preference through its distinct fragrance.
Amritha Joss Sticks are available in 5 different varieties at selected stores island wide.
Amritha Joss Sticks are available in 5 different varieties at selected stores island wide.

Bio Clean
Bio Clean" is the most recent innovation of Darley Butler & Company Limited taking Sri Lankan consumers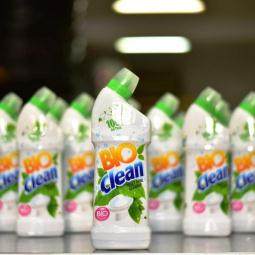 in to a new era in toilet sanitation. "Bio Clean" is the first and only Biodegradable toilet bowl cleaner available in Sri Lanka marketed by Darley Butler & Company Limited, one of the FMCG giants having an impressive 167 years of operations in Sri Lanka.
"Traditional toilet bowl cleaners that are made of mineral acids leads to blockages in sewage tanks. Bio Clean in comparison is a biodegradable toilet cleaner made of an organic acid which fully degrades in to the soil after use. "Bio Clean" is the best solution for blockages in septic tanks.
"Bio Clean" is proven to be the leader when it comes to toilet cleaning efficiency. It disinfects and kills almost all germs usually found in toilets and gives a mesmerizing aroma in toilets after use.
This echo-friendly innovation is a result of a successful collaboration between the University of Colombo Science & Technology Cell (UCSTEC) and Darley Butler & Company Limited. With every Bio Clean bottle you purchase, a monetary contribution is made towards the research fund of the University of Colombo Science & Technology Cell (UCSTEC).
Bio Clean is available in 200 ml, 500 ml & 700 ml bottle sizes and can be purchased from groceries and leading super markets island wide.