Hacks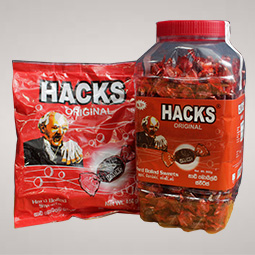 Hacks is the market leader among medicated candies, in Sri Lanka. Very popular for its cooling menthol taste, it can be enjoyed as a "mouth freshener" or to offer temporary relief from throat irritation or cough.
Initially imported from the United Kingdom by Darley Butler Ltd in 1965, Hacks now manufactured in Sri Lanka by E.B. Creasy subsidiary Creasy Foods Ltd, using a formulation provided by Cadbury Schweppes Overseas Ltd. U.K. Hacks is manufactured conforming to international standards and its marketed locally island wide by Darley Butler & Co. Ltd.
The stringent quality control over production to maintain the quality standards combined with an effective distribution has enabled the company to achieve an increase in sales of approximately 15% year on year basis.
Twist wrapped, Hacks is available in 150 sweet bags, 300 sweet bottles and packs containing 10 sweets.

Candyman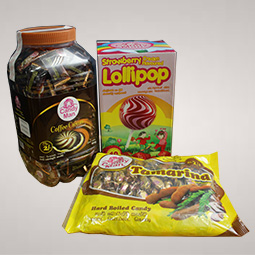 Hard boiled flavoured and twist wrapped, CANDYMAN candy and soft toffees are simply irresistible!
Candyman product range:
Butterscotch Candy
Tamarind Candy
Strawberry Candy
Orange candy
Lemon Candy
Coffee Cream Candy
Strawberry and Cream Lollipop
Manufactured by Creasy Foods Ltd, the hard candy and lollipop are produced via a state of the art Candy Depositor machine, retaining the flavour and maintaining uniform shape and mouth surface, in contrast to tableted candy.
CANDYMAN is distributed island wide by the sole distributor Darley Butler & Co. Ltd
What to look forward to - a range of fruit flavoured jelly candy including strawberry jelly candy and pineapple jelly candy!
Bakery Products
LESAFFRE is a multi-national company, based in northern France is one of the international leaders in the production, fermentation and the transformation of yeast in all its forms. Darley Butler Foods has been representing LESAFFRE in Sri Lanka since 1995, providing the active dried yeast and instant dried yeasts and technical knowledge gained from its long standing partnership with LESAFFRE, to strengthen the local bread & bakery industries.
Our products are:
DCL red yeast - ideally suited to the needs of industrial bread makers.
Available as fine particles, best suited for mixers. The dose can be consistently and accurately weighed and adjusted. Can be used in suspension when mixed with water.

DCL brown yeast
Mainly used for sweet dough products. Instant dried yeast often allows for speedy and uniform absorption within the dough. Can be added directly to the mixer by mixing it dry with the flour or by sprinkling it on top of the dough when mixing begins.

DCL 2 in 1
Bread improver offering the baker tolerance and convenience, helping make the baker's job easier and safer by acting on the behaviour of the dough. An improver specially adapted to the baker's bread-making conditions makes it possible to obtain faster smoothening of the dough, improved machinability, an increased proofing tolerance and better overall yield. DCL 2 in 1 provides bakery professionals with the best types of bread, in terms of volume, texture and colour of the soft centre as well as the crust, helping the finished products to stay fresher for longer as well as improving the aroma of the product.
DARLEY MARGARINE
Darley Butler also distributes Darley Cake Margarine preferred by the many bakers and professional chefs of Sri Lanka. Our Margarines deliver good taste, aroma and soft texture for cakes, and is versatile for use in butter cream filings as well as other general baking applications.
DARLEY PRE-MIXES & BREAD COMPOUNDS
Our Darley range of Pre mixes & Bread compounds are also used by professional bakers and manufacturers to bake a wide range of flour-based products. Preferred for its quality, cost-effectiveness and ease of use, Darley range of Pre-mixes & Compounds provides the professional baker an edge over the competition and increased profitability.
Inventis Bread Improver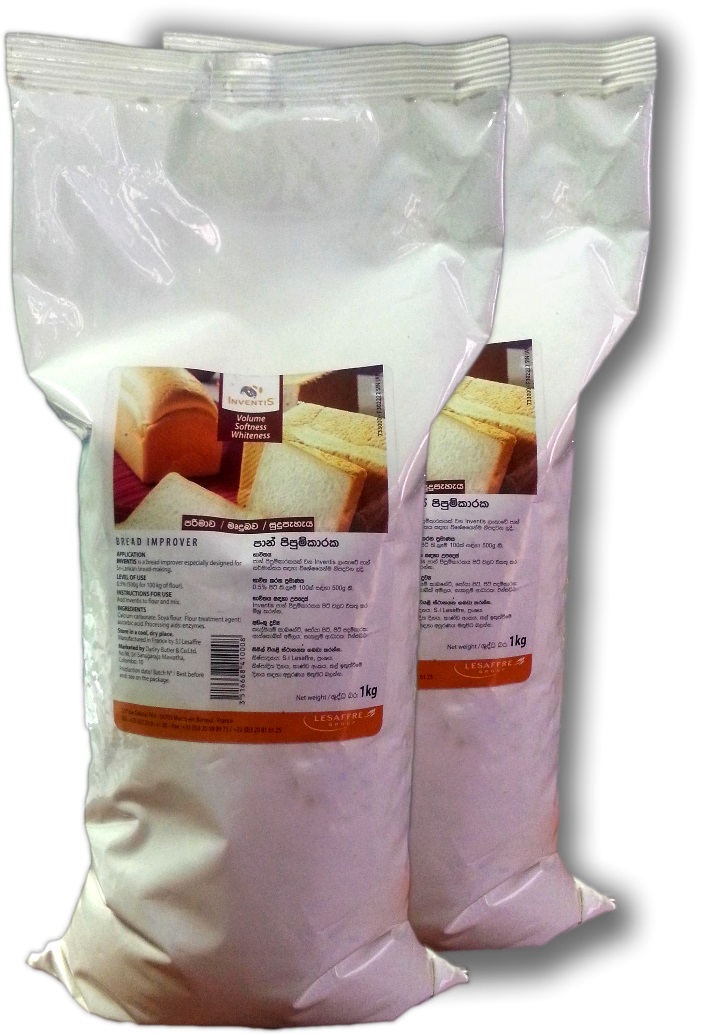 INVENTIS is a bread improver imported from the world's largest yeast manufacture Lesaffre France. The company holds almost 50% of the total yeast market in the world. Bread improver has been a part of their product portfolio for the last 25 years and are well experienced in developing different types of bread improvers for different regions and countries in the world. Currently Darley Butler is the exclusive distributor in Sri Lanka for INVENTIS bread improver.
INVENTIS was specially designed to match the Sri Lankan requirements of the baker and does not contain any ingredient that will be harmful for consumption. INVENTIS comes in two different formulas which are INVENTIS Mars market and INVENTIS Premium formulas.
INVENTIS for mars market – This improver is designed for bakers to increase the overall quality and volume of the baked product. It could be used from a dosage from 0.3% to 0.5% on flour weight according to the baking process at the customer's point.
INVENTIS PREMIUM - This formula is specially designed for customers looking for a high quality finished baked products and especially sandwich loafs. INVENTIS PREMIUM will help to increase the softness and shelf life of the finished products. Recommended dosage is 0.35% to 0.7% on flour weight.
For all your bakery requirements and assistance to enhance the quality of the balance product, we have an experience technical team who is available 24hours to help you with your bakery needs.
Technical Support
Please contact:
Delano – 0773-136730
Ajith – 0778-245967